Jewelry Cleaning Service
Regular price
Sale price
$30.00 USD
Unit price
per
Sale
Sold out
Share
This listing is for one cleaning (of one item) and restorative service for any Silver Muse jewelry. It is not for jewelry that was made by anyone other than Silver Muse. 


This service includes:
Reapplication of any patina (blackening)
Polishing and tumbling (if applicable)
Reshaping of earwires or cuff bracelets or bands
Possible buffing out scuffs in stones (not guaranteed)
Return shipping back to you 
What this service does not include:
Removing any stones in order to fix broken bezels or parts
Repairing any other broken parts
Resizing
Returns due to changing your mind about owning the jewelry
Important information:
Once your jewelry is received by Silver Muse, it will be inspected to ensure that the jewelry can be cleaned up to its original state. If it cannot be, you will be contacted by email to discuss the next step. If you don't respond within 7 days, your jewelry will be returned to you as is.
If the restoration is for a more complex piece such as one including handmade chain, there may be an additional fee requested to complete the job based on the amount of time it takes to restore it. 

Once the cleaning job is complete, a new polishing cloth and anti-tarnish strips will be included with your order and it will be shipped back to you. 


Please expect each cleaning job to take up to a week before it is returned to you. Holidays and weekends may cause a longer return time. 


If you have any questions in advance of mailing in your jewelry, please contact me first, either through Instagram: @silvermuseart which is the fastest way to contact me or by email: SilverMuseArt@gmail.com. Include images of the jewelry. 


SilverMuse jewelry to be cleaned should be mailed to: Silver Muse, 2806 Reynolda Road #198. Winston Salem, NC 27106. Be sure to fully insure your pieces and send a tracking number to the above contact information so I can expect your order.
Silver Muse is not responsible for items lost in the mail. It will be your job to contact the postal service to cover the insurance of any lost pieces.
This service is exclusively for USA addresses. If you are outside of the USA, please contact me.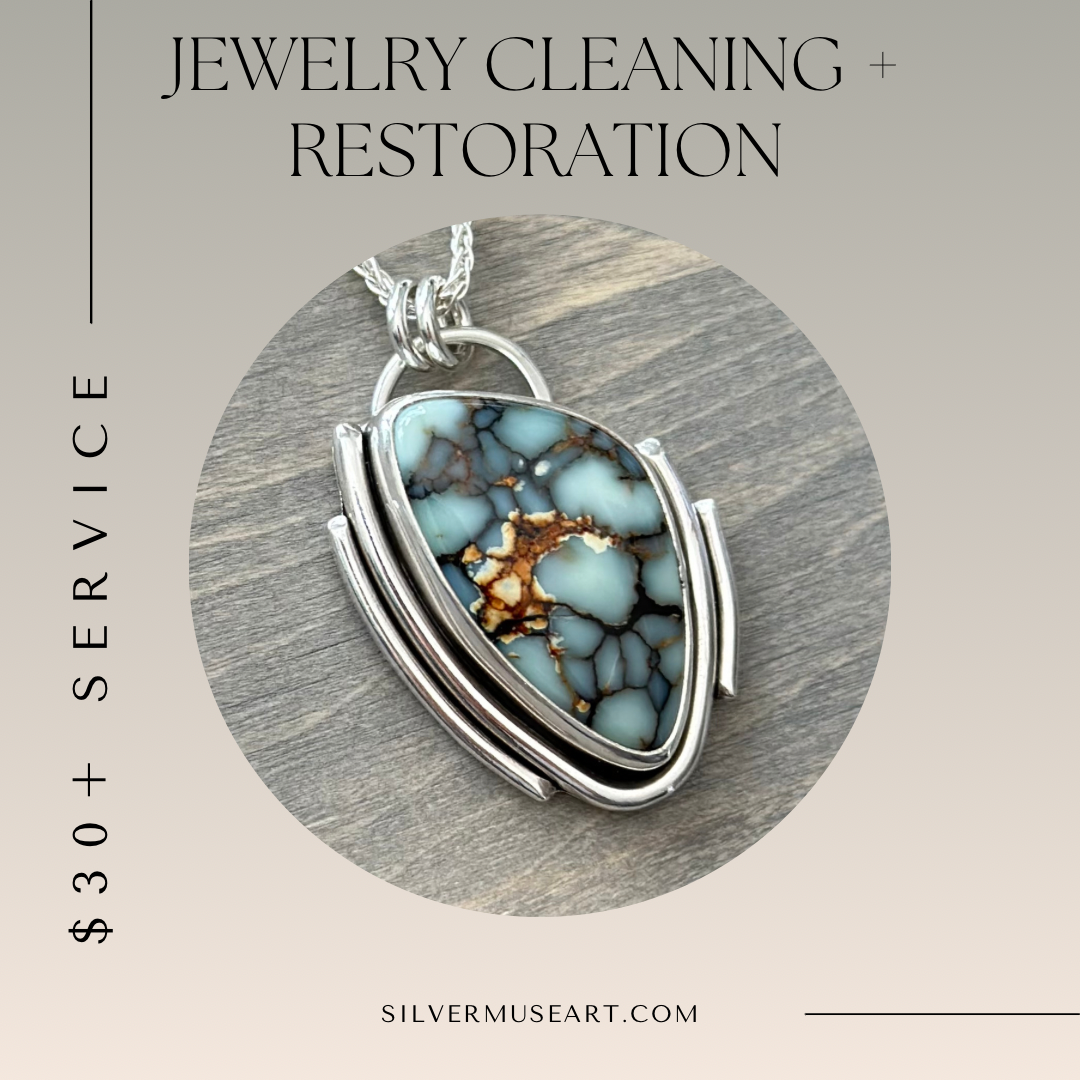 Packaging

Your jewelry will be packaged in either a Kraft gift box or in a linen drawstring bag. An anti-tarnish bag and a polishing pad will be included. Prices are never in the package so if it is a gift, the price will remain a secret.

More on Shipping

Returns

We try to provide sufficient images from many angles so you know what you're getting. If for some reason you do not want what you ordered and want a refund, there will be a 15% restocking fee. If you prefer a gift card, then there is no restocking fee. Shipping fees to you and back to Silver Muse are not refundable. Cabochons and custom made jewelry are not returnable.

More on Return Policy